PLANTAIN & KIDNEY BEAN CURRY
---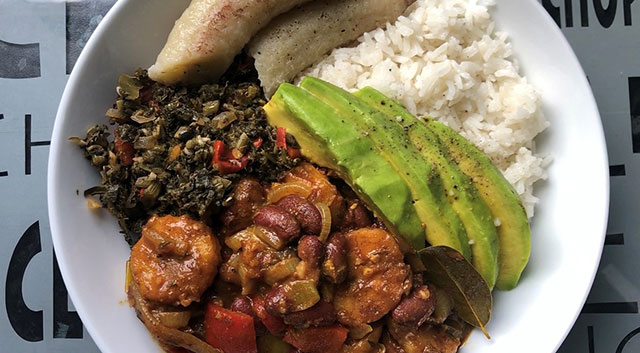 PLANTAIN & KIDNEY BEAN CURRY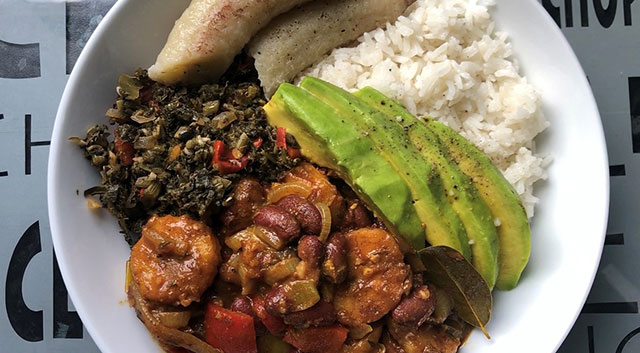 Ingredients
(4 servings)
coconut oil
1 tbsp cumin seeds
1 large onion
5 garlic cloves
2 large tomatoes
sea salt
black pepper
cassia bark (or a cinnamon stick)
3-5 bay leaves
2 spring onions
sprigs of thyme
1/2 deseeded scotch bonnet
1 tbsp curry powder
1./2 tin of coconut milk
1 bell pepper
200g kidney beans
1 tbsp tomato paste
2 plantains
1 tsp cinnamon
1/2 tsp garam masala
1/2 tsp all spice
Method
First peel, slice and fry plantains in coconut oil until golden and put to one side.
Heat coconut oil in a frying pan and add cumin, onions and garlic and sauté for a few minutes before adding chopped tomatoes, salt, black pepper, spring onions, cassia bark, bay leaves, thyme, scotch bonnet curry powder and a little water.
After approx 5-7 minutes when the ingredients have infused together add coconut milk followed by chopped bell pepper, cooked kidney beans and tomato paste. Add a little more water and place lld on and stirring occasionally for 25 mins on a low – medium heat.
Finally add the cinnamon, garam masala, all spice & cooked plantain., mix together and turn off heat after 3 minutes.